When RW Water Softener hired us for SEO services and digital marketing more than two years ago, they had just started their online efforts. The website barely registered on search engines, appearing primarily when people Googled the domain, rwatersystems.com. The company was struggling to develop business from a burgeoning online market.

As the campaign progressed, the website gradually rose to the top of search engines. Landing pages were constructed for key markets, and the client started to gain traffic from these areas. During an early 6-month period of the campaign, results were positive, with an organic traffic increase of more than 30%.
This growth was significant and a direct result of SEO efforts, from content optimization to landing page creation to link building. Around 30% of visitors to the website were arriving from search engines, with about 90% of that number being new to the site. At this point, our SEO team was only getting started with the campaign. In coming months, we would see organic traffic increase by around 10% every month. These were small gains, and there were months (as you can see in the image below) where traffic was down. But overall, these gains accumulated, and the website continued to crawl to the top of search engines.

More than a year into the campaign, we started to see big spikes, like with January 2018 in the image above. It took months of hard work and steady progress to start seeing these dramatic "spikes" in traffic. The campaign reached a point where today, its traffic is up by 430% compared with August of two years ago.

SEO services at the six-month mark, had good keyword gains and a 30% traffic increase. They decided to keep going, and they experienced phenomenal growth because of their commitment to an ongoing digital marketing campaign.
In the SEO industry, we like to describe our work as a marathon, not a sprint. Nothing makes this more clear than the above results. Commitment to your digital marketing campaign will involve lots of communication, hard work, and trust. But if you keep going, the results can be incredible
Digital Marketing Case Study
Drama Kids Franchise at dramakids.com
Drama Kids is a major franchise brand, consisting of over 1,500 franchise entities throughout the USA, and with some international locations. In November 2018, Drama Kids contacted Ibi Marketing to assist with a digital marketing plan to be executed through 2019. The two primary goal of the campaigns would be to: (1) Generate increased national search-based rankings to help drive more website traffic and franchisee business. (2) To generate franchise development sales leads to help sell more franchises. Working with a limited budget, Ibi Marketing proposed a marketing solution to include SEO, AdWords management and a lightweight social media post campaign.
SEO Performance
The dramakids.com website received very limited growth for several years prior to the launch of the SEO campaign with Ibi Marketing. SEO was launched on 1/4/2019 with search-based ranking and organic search traffic increasing almost immediately. Within four months, traffic increased by 50% and by 210% after eight months. Over 150 new keyword rankings were captured on Google alone, within the first two page results.

PPC Performance
An AdWords PPC campaign was launched in April, 2019 for the specific purpose of generating franchise development sales leads. The campaign quickly began to generate sales leads which were reported as being very high quality. The cost per lead was very manageable, leading to an attractive advertising ROI.

Based on these successes, Drama Kids Corporate requested that we become the "Vendor of Choice" for AdWords management. Today, we manage AdWords campaigns for dozens of Drama Kids franchises, with new account being added regularly. We are currently in negotiations with Drama Kids to also offer SEO services for franchisees and to expand the 2019 digital marketing efforts.
E-Commerce SEO Case Study - Vermont Soap
How E-Commerce Picked Your Soap
How many times have you washed your hands today, or better yet how many times have your coworkers? Right now there might be your favorite scented holiday soap in the bathroom. For some there might be an empty soap bottle with a little water to get the remnants out. No matter how you go about picking your soap, could you successfully differentiate your product in a national e-commerce playing field? Today we look into how SEO efforts were able to get national rankings for organic soap through 3 simple steps: lather, rinse, repeat.
Lather
Vermont Soap's SEO campaign launched in February of 2018 with a robust Wordpress site for the bulk of their content and Shopify for all end products.
From the homepage of the business:
"Vermont Soap has been replacing yucky petrochemical based products with yummy natural formulations made from organic oils and herbs."
Our team was tasked with capturing national rankings for this e-commerce site with a product that, in retrospect, was made to disrupt consumer behavior in the soap industry—that being how you pick your soap.
Initial research in Google Analytics identified which products were already driving traffic and sales. We broke all products of the site into the categories below:
Organic Soap
Organic Castile Soap
Organic Foaming Hand Soap
Organic Deodorant
Handmade Soap
Organic Moisturizer
Natural Cleaning Spray
Natural Organic Shower Gel
Soap for Dry and Sensitive Skin
Shea Butter
Next, our team lathered keyword research into title tags, META descriptions, and on-page content. We optimized product categories in addition to core pages of the wholesale website, ranging from organic soap for oily skin to handmade bar soap made from coconut. How do you lather your keywords into your title tags and descriptions?
Page: https://shop.vermontsoap.com/shop-by-skin-type/normal-skin/
Title Tag: Handmade, All Natural Bar Soap Made with Coconut, Olive & Palm Oil
Description: Looking for an all-natural soap that will keep your skin healthy? Try our handmade bar soap, made from organic ingredients.
Page: https://shop.vermontsoap.com/shop-by-skin-type/oily-skin/
Title Tag: Organic Soap for Oily Skin | Liquid Castile, Clay & Astringent Soap
Description: Keep your skin clear and healthy with organic soap for oily skin from Vermont Soap, producer of fine organic products since 1992.
The meta information above (visible only in the page source-code and to Google index) communicates a clear message to search engines—soap manufactured with a high regard for quality, health, and resources.
Rinse
The first 30 days of SEO are crucial to results and overall success for the campaign. After lathering a multifaceted SEO strategy throughout the website, our next step was rinsing organic traffic growth. In SEO, we measure organic traffic growth from Google and Bing to gauge campaign success.
Below you will see organic traffic over the course of a 5 month period in 2018 (orange line) compared to 2019 (blue line).
March 1st-August 31st Organic Search Traffic for Vermont Soap

In 2018, organic search traffic increased month to month from June to August.
Note: traffic in May 2018 was skewed because the Google Analytics tracking code had to be reinstalled.
March 2018: 10,172
April 2018: 4,911
May 2018: 1,204
June 2018: 8,974
July 2018: 9,365
August 2018: 11,267
September 2018: 11,600
In 2019, we saw organic traffic up 36.63% year over year: from 44,273 to 60,491 organic users. The month to month breakdown was as follows:
March 2019: 11,409 (up)
April 2019: 10,050 (up)
May 2019: 9,571
June 2019: 9,500 (up)
July 2019: 10,530 (up)
August 2019: 11,300 (up)
Impression Data
Impressions are when a user sees a website in search results. They strongly indicate SEO growth because as rankings move upward, more people see the website.
We pulled impressions to the Vermont Soap website from June 1st to August 31st in both 2018 and 2019:
2018

Impressions were up in 2018 with the site spiking at 10,698 impressions in one day on August 28th. Our total impressions to the site within those months was 662K.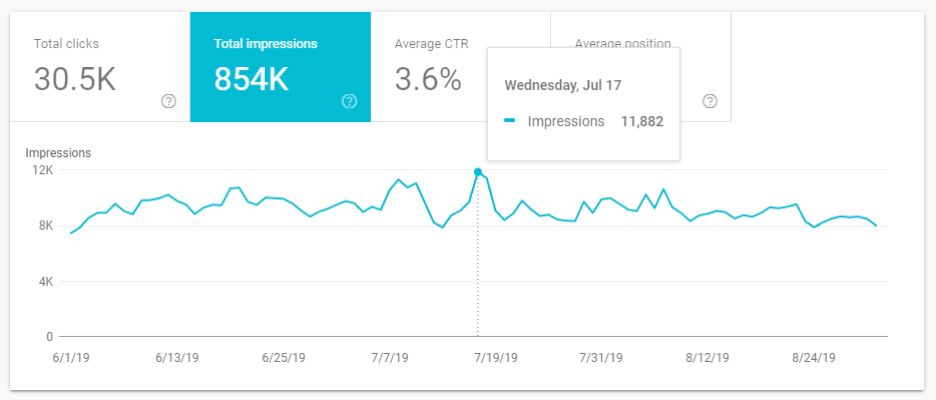 By 2019, we had achieved more saturation across the market, so growth is less apparent in the figure above. Regardless, the website totaled 854K total impressions during the same 2019-time frame—a 192% increase from 2018.
Repeat
After rinsing organic traffic for the Vermont Soap website and noting our successes, we worked to repeat SEO growth for the website. During the early phases of SEO, as Google acclimates to our optimization, we see major incremental gains. Then, growth steadies out and moves at an incremental pace, as seen in our 2019 figures.
Keywords in title tags, META descriptions, and on-page content led to successful national rankings for the Vermont Soap website:
#1 for Acidic Soaps
#1 for Alkaline Body Wash
#1 for Alkaline Soap
#1 for Organic Bar Soaps
#1 for Castille Soap
#1 for Conventional Deodorant
#1 for Natural Bar Soap
#1 for Natural pH Soap
#1 for Organic Castille Soap
#1 for Organic Liquid Soap
#1 for pH Balanced Soap
#1 for Private Label Soap
#1 for Wholesale Soap
Lather, Rinse, Repeat
So, how did e-commerce pick your soap? Through the use of a multifaceted SEO strategy with different keyword considerations, our team yielded national rankings for organic soap and delivered significant growth with organic traffic. Our keyword lather on product categories and wholesale pages-initiated visibility across search engines. Once our data was rinsed, we achieved organic traffic and impression growth. An SEO campaign wouldn't be complete without repeating what works, ensuring saturation for crucial keyword categories.
Should your campaign become stagnant, it may be time for a touch-up on the site. Looking for a good place to start? Lather, Rinse, Repeat.
Photography Website SEO Case Study
In this case study, Ibi Marketing will look at two of its recent clients, both of which are photography businesses. Both Trish and Jodi are portrait photographers located on opposite sides of the country.
At Launch
They both have beautiful websites
However, at the time of launch, these sites lacked in original content on both the home page and internal pages.
Google's algorithms are content-based and Ibi Marketing recommended adding content to these websites.
When we started the SEO campaigns, Trish had a base visibility of 133, while Jodi had a base visibility of 59. Visibility scores are determined by how easily you can be found on search engines, based on three factors: number of keywords for the website, the position of those keywords, and the search engine associated with those keywords. Higher ranked keyword phrases provide more points than lower ranked keywords - more listings on the first page means more points.
Ongoing SEO
Compare/Contrast: Adding content vs. not adding content
Jodi did not create more content and did not build out any landing pages to grow her geographic reach. Over 30 days her visibility score responded somewhat to optimization, from 59 to 131, an increase of 72.
Trish created content for 9 pages (5 landing pages and 4 service pages). Within 30 days of adding content, her visibility score increased from 133 to 413, an increase 280 (almost 4 times that of the website without content).
The value of content on a website is immense. Even though both clients specialize in a visual medium, content led to faster results. While images are what they are trying to sell, the website that added content achieved more growth. When clients add content for the Google algorithms, their websites will start to see faster results compared to websites that have minimal content.
In 30 days Trish had 92 new users visit her website and after 60 days she saw that number increase to 122, a difference of 30 users. After adding content, she gained significant rankings in only 30 days
In 30 days, Jodi had 39 new users visit her site and after 60 days she only saw 32 new users visit her site. By not adding content to her site, she saw minimal growth after 30 days
Today
Jodi cancelled services after 60 days when she mentioned she wasn't seeing instant results, ending her campaign with a visibility score of 180 and 22 active keyword rankings.
Trish has an active SEO campaign with Ibi Marketing and after 60 days, she achieved a visibility score of 494 and is ranked for 45 active keywords.
Conclusion
The website with content saw a large growth in their visibility score as well as in their active keyword rankings and website traffic. The website without content saw growth, but at a much slower rate.
This South Florida Law Firm has had many marketing companies over their 40-year existence. They felt as though all has gone very well for the most part. This Florida Law Firm took advantage of our free online marketing evaluation. After discovering some opportunities for success Internet Business Ideas and Marketing (dba Ibi Marketing) was hired.
The goal was to acquire more leads and have a strong online presence. We met and exceeded desired goals.
This south Florida Law Firm started with an online presence/visibility score of 222. 22 keywords ranked on the first two pages of Google with only 6 being ranked in the first position. The paid and social marketing was so lack luster that you wouldn't expect it from a 40-person law firm. The legacy of the brand and hard work of the employees allowed the online presence of this firm to be semi successful.
Based on the restrictive budget of this South Florida Law Firm, Ibi Marketing created a custom campaign by using SEO, Social Media Marketing, and PPC. Ibi Marketing utilized content optimization, link building strategies, A/B split testing, creative ad design, Geofencing, and many more marketing tactics to achieve fantastic success.
After 2 years this South Florida Law Firm now has a visibility score or 4,489 vs. 222. 243 keywords now rank on the first two pages of Google vs. a decade of marketing and only having 22. Ibi Marketing also now has this law firm ranked in first position for 47 keywords. This is primarily due to a successful SEO, social media, and Pay Per Click marketing campaign. All strategies are instrumental in achieving such success.
25k people see their ads per month. Almost 2,000 people go to their website per month. At least 50 people fill out forms or call per month. By their choice there tracking isn't completely how we would want it, but they said 5 closed clients come from our marketing efforts per month. With an average client value of $70k, Ibi Marketing generates over $350,000.00 per month for our client. We suspect more is being closed.
Organic Search
The first thing we look at to determine a campaign's success is the number of people who visited from search engines. If this number has improved over the course of the campaign, it means the SEO campaign is achieving results.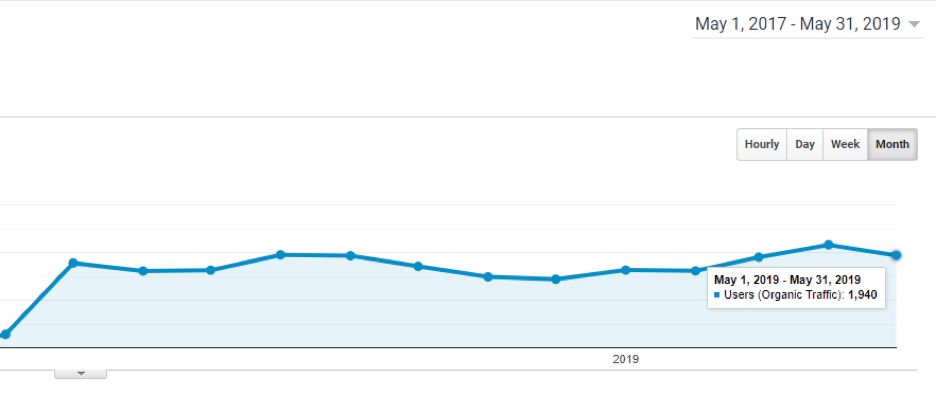 In the above graph, we can see a gradual increase in organic search traffic this Spring.
Comparing May 2019 with May 2018, organic search traffic is up 9%, from 1,780 users to 1,940 users

By the end of Spring (comparing January with May), organic search traffic was up 24%, from 1,565 users to 1,940 users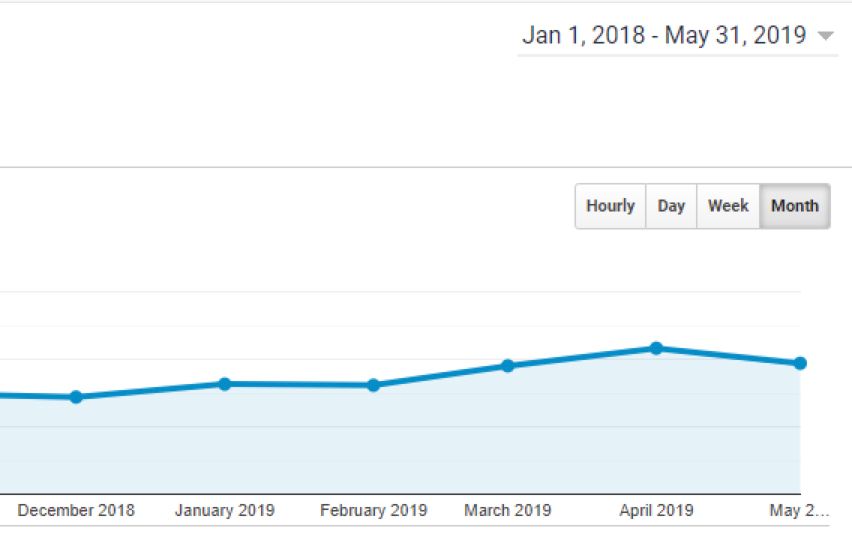 The above data indicates that we will either 1. Continue to increase in organic search as a part of this trend or 2. Experience a slow-down in the summer due to seasonality. It will be interesting to see what happens, and we believe the website is in a great place to continue growth.
Keywords
At the launch of the campaign, our top priority in keywords was "pipe fabrication tools." When the website started (this is a link to our baseline report) SEO services, it had a #12 ranking for this keyword, which on average receives 260 searches a month, with high competition (per the Google Keyword Planner).
As of May 2019 we have achieved a #1 ranking for "pipe fabrication tools" elevating the website above the rest of its competition. Other valuable keywords like "pipe cradle," "pipe jacks," and "pipe rigging," have also achieved first page rankings.
Special efforts were made during a recent content optimization to focus around pipe rigging and mega jacks. Our team is willing to focus SEO efforts in other areas as the campaign moves forward.
The following are our keyword targeting priorities. Please let us know if anything on this list needs to be added, removed, or adjusted.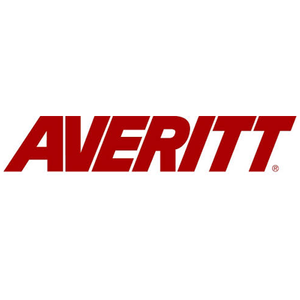 Averitt Express provides freight transportation and trucking services that range from Mexico to Canada. Campaign goals were simple: (1) provide first-page search engine rankings for relevant search phrases and (2) provide an international presence expanding beyond US Borders.
As new keyword rankings were captured, search-based exposure increase. Traffic to the website grew by nearly 150% in under six month due to on-target search engine rankings. Rankings include transportation phrases within the US, Canada and Mexico.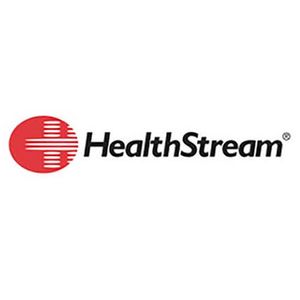 HealthStream is the largest provider of healthcare training and certification services, facilitating tens of thousands of medical professionals. Their income model is based on B2B ecommerce, capturing online sales from major healthcare organizations.
Dissatisfied with their prior PPC manager, Healthstream was seeking a new partner to bring in additional intelligence and analytics to their Google AdWords campaign. With a target budget exceeding $200,000 annually, we were asked to (1) Manage an optimized, efficient AdWords campaign and (2) integrate sales lead tracking capabilities to determine advertising ROI.
After 12 individual interviews with department managers, and other HealthStream staff, the AdWords campaign was launched. We developed a lead tracking strategy and executed with the assistance of the website development firm. For the first time in its history, HealthStream can now accurately track inbound sales, ROI and other key performance metrics which has been critical in maximizing their advertising budget. By the end of January, 2015, the company reached an all-time-high for inbound sales while allocating the smallest marketing budget in three years.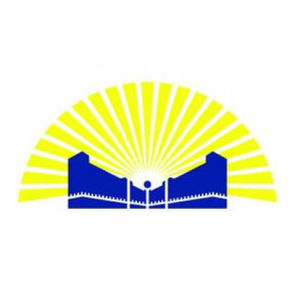 Providence is a multibillion dollar manufacturing firm based in Hong Kong. With limited exposure in the United States, NuSvara was contracted to help use digital media to secure new business and partnerships. The campaign consists of SEO, content marketing and social media.
Having launched in November, 2013 with zero search engine visibility, the website now benefits from over 150 active keyword rankings of which 130 are first-page ranked. While Providence does not share backend financial details with NuSvara, they have confirmed that multiple major contracts have been landed as a result of their website presence.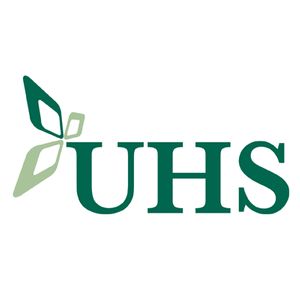 UHS
UHS is the largest healthcare conglomerate in the Southern-Tier region of New York. We were tasked with two primary goals being: (1) outrank their primary competitor Lourdes who had a stronger search-based presence. (2) Expand their presence from two base locations to a larger geographical region including over ten cities.
Within two months UHS overtook the #1 spot on Google for their primary target keyword (Binghamton hospital). Currently UHS now populates the first 5 rankings (#1 - #5). Over the course of two years, the volume of active search engine rankings moved up from 100 to over 500. Search rankings were capture for over 12 cities and counties ranging over a 100 mile radius and crossing state lines. Search-based traffic increased by 4,000 unique visitors per month with an estimated revenue increase of $3 million/year in new patient relations.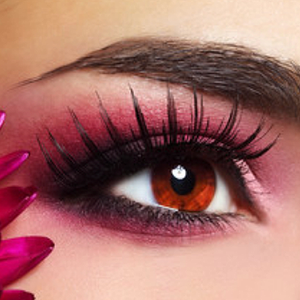 Eye Lash Store Case Study
Goal: Increase online visibility of Eye Lash Store products in search engines to drive greater traffic while increasing site revenue
Strategy: Make the site search engine-accessible and surface research-informed content while simultaneously creating Google Shopping (product ad) campaigns.
Background: Eye Lash Store already had an online presence and had been selling online for several years but was missing out on a large amount of traffic due to poor online visibility for many of their key products. We calculated that Eye Lash Store was missing about 70% off the online traffic searching for their products.
The Challenge: The SEO challenge that we faced at the beginning of our engagement was the lack of a focused keyword strategy and a site built in a way that was very difficult for search engines to crawl for content. The lack of a focused keyword strategy resulted in a situation in which the few SEO elements that could have potentially aided the site (page titles, meta descriptions, internal links from blog posts) were far from effective.
SEO Keyword Research: On the keyword side, we analyzed terminology used in Eye Lash Store's inaccessible content, dug into large volumes of keyword data, and analyzed search/industry trends. Our research helped us make decisions like whether we should target "eyelash extensions", "false eyelash extensions", "blink eyelash extensions" or "fake eyelash extensions", In that specific case, we found through our data, testing, and analysis of the search landscape that Google and Bing were treating these different variants as more or less distinct, that "eyelash extensions" was more frequently searched in the US, and that visitors who landed on the Eye Lash Store site through "blink eyelash extensions" searches stayed longer, dug deeper, and were more likely to buy. From there we developed a thorough keyword strategy that would allow our team and Eye Lash Store to strategically work high opportunity keywords into specific pages.
Website Changes: On the technical side, we knew that improving search engine rankings would be exceedingly difficult with the sites current condition. The site was built on the BigCommerce platform which allowed for easy backend changes and updates to be made to the sites meta data. We began by spending time implementing targeted keyword phrases throughout the site while properly optimizing and updating image files to be called by search engine spiders. This process took a few months to fully complete reaching all product categories and individual products. The site was now talking in a language preferred by search engines allowing the site and products to be indexed properly and more frequently. With this task completed we needed to complete the Google Shopping campaigns.
Google Shopping Campaign: With many different products and product options we knew that the most immediate impact we could make to improve online visibility was to create a Google Shopping campaign allow for detailed products and images to show for targeted searches. Because the Shopping campaign would create a financial cost we had to work closely with the Eye LashStore team to establish a strategy that we felt would deliver a favorable ROAS (return on ad spend) generating enough revenue to offset the cost obligation. After weeks of careful planning we delivered our strategy to be approved with a budget from the Eye LashStore team. We were ready to implement our campaign with careful monitoring and tracking of all online sales and revenue.
The Results: From the very beginning of the 2 part initiative in July of 2014 we began to see striving gains in search engine rankings paired with increased traffic to the site. In just the first 3 months the site recorded an increase in organic traffic 206% compared to that time period from the previous year and 56% increase to the previous period. Online sales also jumped in this period up over 149% to the previous year. The shopping campaign generated similar success improving sales by over 76% in the first 3 months while reducing financial risk by 19%. The campaign successfully drove more traffic to the site with less money while improving online sales. With positive reaction from Eye LashStore we decided to increase available budget to try and improve on these figures. We continued to grow our efforts over the remaining year July 2014 – July 2015. By the end of the first we the results were astonishing. Combined traffic showed an increase of 123% over the previous period with a 128% increase in online sales revenue. However, gains in total organic can be deceiving, since increased brand activity, influence, and attention can lead to big increases in branded search traffic. To truly assess an SEO campaign's effectiveness, we prefer to look primarily at search traffic from non-branded keywords. From 2013-2015, the site has seen a 162% gain in traffic from non-branded searches. Organic sales and traffic continue to climb while the current Google campaigns are seeing month over month ROAS over 1000%.
The Reaction: The Eye Lash Store team was incredibly impressed by the magnitude of our SEO gains and Google Shopping gains, month-over-month and year-over-year, during the last 18 months. Throughout this process, we've demonstrated the importance of both research-driven content optimization and search engine accessibility as a means of achieving business goals.
The Lesson: When your objectives hinge on getting your brand in front of potential customers who shop online, you can't ignore organic search and Google product ads. While it absolutely pays for your site to provide a memorable visual experience, that can't come at the expense of search engine accessibility.