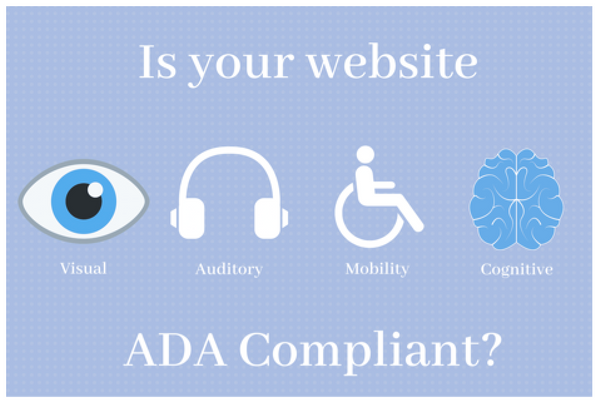 I want to be crystal clear that if you don't have an ADA compliant website you can be sued. At Internet Business Ideas and Marketing llc, we believe everyone should have an equal opportunity to information. Did you know the average settlement is $50,000+ for not having an ADA compliant website? That isn't including your legal fees. At Ibi Marketing we have a solution starting as little as $30 per month. Contact us now for more information and get signed up immediately. If you look at the top right-hand corner of our website (click on the universal ADA compliance logo) you will see an example of all the features that can help those with disabilities better navigate information on this website.
In 2019, according to an analysis by an international law firm, web accessibility federal lawsuits hit record numbers, with 11,053 suits filed in federal court, an 8.8% increase from 2018. 2020 exceeded that in June by almost 10%. In our educated opinion, we expect 2021 to have an increase of at least 20% and not slowing down anytime soon. The time to be compliant was yesterday but isn't too late to sign up today.
The most sued industries for ADA website Non-Compliance are:
Travel/Hospitality
Restaurants/Food Service
Medical/Health
E-Commerce
Universities/Educational
Beauty/Fitness/Wellness
Entertainment/Leisure: Fox Theaters
Insurance
Retail Stores
Home Services
Banking/Financial
Real Estate
Automotive
Government
If you fit into those categories I suggest you get compliant immediately. To make a website compliant can range anywhere from $3,000 – $5,000+ and depends on many factors like condition of the website, amount of traffic, and the number of pages. Just like doing an online marketing campaign (SEO, PPC, Social Media) it needs to be optimized on a regular basis. With laws changing from state to state so do the rules for ADA compliance. Constant auditing/maintenance is recommended but we also have an affordable solution that is constantly updated to make your website compliant for only $30 per month.
What is ADA and why is it important?
The Americans with Disabilities Act (ADA) makes it possible for everyone with a disability to live a life of freedom and equality. Signed into law by the President of the United States on July 26, 1990 after passing with overwhelming bi-partisan Congressional support, the ADA was the first comprehensive declaration of equality for people with disabilities. The ADA protects the rights of people with disabilities in all aspects of employment, website browsing, in accessing public services such as transportation, and guaranteeing access to private establishments (places of public accommodation) such as restaurants, stores, hotels and commercial buildings. There are over 54 million Americans who have a disability. That's nearly 19%, or one in every five residents. This number continues to grow as a larger percentage of our population acquires disabilities, often as a result of aging or disabilities incurred in combat.
The solution is simple, just make your website available so everyone with a disability can equally enjoy your website. A phrase you'll see commonly laced in plaintiff's lawsuits is "effective communication" — does your website provide effective communication?
U.S. courts and the Department of Justice (DOJ) have continually referenced the WCAG 2.0 AA success criteria as the standard to gauge whether websites are accessible. The criteria are comprised of 38 requirements (including level A), individually referred to as success criterion. Ibi Marketing uses these strict standards to ensure that every industry, including government & public sector, healthcare, IT & security, education, banking & financial, consumer & retail, hospitality and more, can benefit from providing their users with the most powerful suite of integrated accessibility solutions available.
Bottom line, if you should give two cents about others then make your website compliant!! If you believe in equal opportunity then you need to have an ADA compliant website. We feel it's an obligation as a U.S. citizen and business owner. If you possibly don't want to spend tens of thousands of dollars in legal fees then make your site compliant. If you want a very affordable solution contact us today. Thank you in advance for caring for others!!
References:
Ada.gov, Kevin Rivenburg blog, essentialaccessibility.com, legal firm Seyfarth Shaw, Wikipedia, www.w3.org/TR/WCAG20, adacourse.org, User Way, atilus, Go Marketing, Adalawsuits.com, Flpatellaw.com, and Berdon Accountants and Advisors.