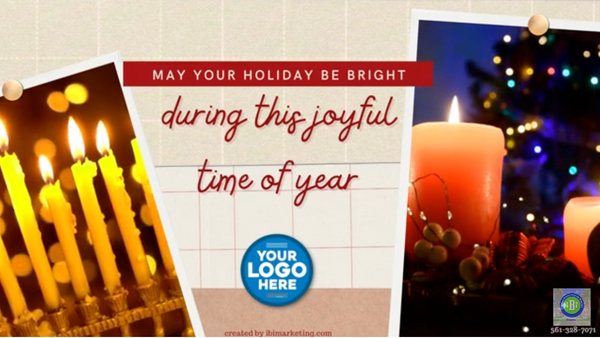 Increase your brand awareness!!
Make someone's day. How do you feel when someone gives you something?
Stay on top of someone's mind!!
Build loyalty and show them you care!!
Reach hundreds or thousands at the click of a button.
***Send this digital card to client, friend, family member, associate, and/or stranger.
***Post it on your social media pages, add it to the signature of your email that you use every day, add it to your newsletters, or email blast.
How it works in 4 easy steps:
1. Contact us and let us know how many you want.
2. Pay invoice.
3. Send your logo, company name, phone number, and or url. We need at least one.
4. Within 3 business days (usually 1) your video will be delivered to you.
Cost Of Promotional Videos
***Custom videos available for an additional price.
Samples Of Promotional Videos
Option 1 - Happy New Year! Digital Card. Customize this digital card with your logo!!
Option 2 - Merry Christmas and Happy New Year Digital Card - Add your company logo to this card
Option 3 - Happy New Year Digital Card - Add you Company Name and Logo to this card
Option 4 - Happy Holidays - Add you Company Name and Logo to this card